Pizza Yum! Pizza party birthday, double yum! My card features a watercoloured Paper Shelter image with glittered cardstock and pizza paper along with a stamp set from Simon Says Stamp.
Putting It Together
This weekend we're going to a birthday celebration for a friend. When I started painting the image, the party was a BBQ. The next day it changed to a pizza day and the card for my friend popped in my head.
I like this fan-like pan watercolour set. It's less than $20 on Amazon and is handy to carry in my purse (I keep it in the plastic sheath it came in. I coloured the image at work during lunch. It took two days to get done only because of other interruptions and a limitation on my 'free' time.
When I started to think of a pizza-themed birthday card, I pondered my stash and reemembered I have a pizza paper from Micheals. When I got home, I put the paper together with the image and framed the image with a die to size it. I also added Wink of Stella to the wings for a subtle sparkle and gold gel pen to her jewelry.
I decided to matte with a lilac glittered cardstock for both the background and the fairy. To save on the cardstock, I die cut the fairy's matte from the centre of the background matte. The hole will be completely hidden so why not use it.
I dry fit the pieces and added a sentiment and ribbon to try them out.
I stamped the sentiment in black and popped up the image panel + matte with foam mounting tape. I also added pearls to the corners and one to her pendant as well.
Inside, I used Simon Says Stamp set to continue the pizza theme. I couldn't resist having a double sentiment and 2 images. When making your own cards, nothing says you need to have only a single one.
Supplies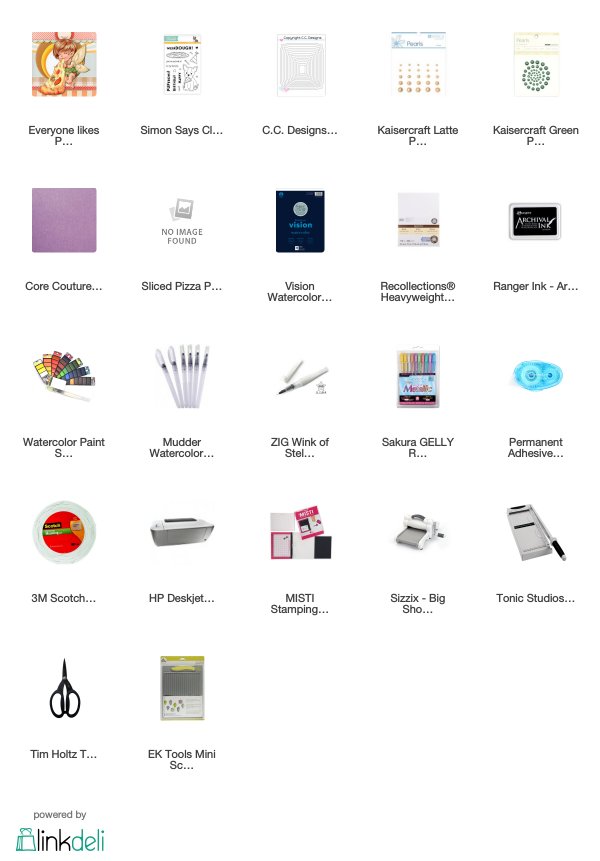 Challenges