My birthday card in blues, features a die cut from Memory box and an embossing folder from Sizzix with BoBunny glitter paste and Nuvo Mousse. "Age is just a number."
Putting It Together
The idea for this card came to me while I was trying to sleep. When my cat decided he needed attention far far too early and kept me awake, I got up and made it before breakfast and heading to my day job.
I used BoBunny glitter paste to cover a panel of lightweight watercolour paper.
While I let the glitter paste dry, I die cut foiled cardstock. I checked the blue foil against the blue glitter paste when the panel was mostly dry. The colours are very close but the textures are very different.
I checked the die cut with the numbers embossing folder. I actually have two folders with numbers, one in each direction - vertical and horizontal.
When the glitter paste felt dry to the touch I put it in a plastic bag that had been packaging for something before I ran it through the Big Shot with the embossing folder. I did this to make sure none of the paste would get on the folder. The surface felt dry, but the Big Shot exerts a lot of pressure which would find any spot that's not entirely dry and stuck to the panel.
The panel just embossed. The glitter paste over the whole panel makes it feel a little leathery. The panel takes embossing quite well.
I used a fingertip sponge with light blue Nuvo Mousse to highlight the embossing.
The two-tone blue background looks even better in person.
I dry fit the die cut sentiment.
I die cut four additional sentiments from a light blue cardstock.
I used glue pen to stack the sentiments.
The stacked sentiment has dimension and also more solid stability.
The light blue under the dark is barely visible but gives the sentiment distinction.
I adhered the panel and sentiment to a white card base.
Supplies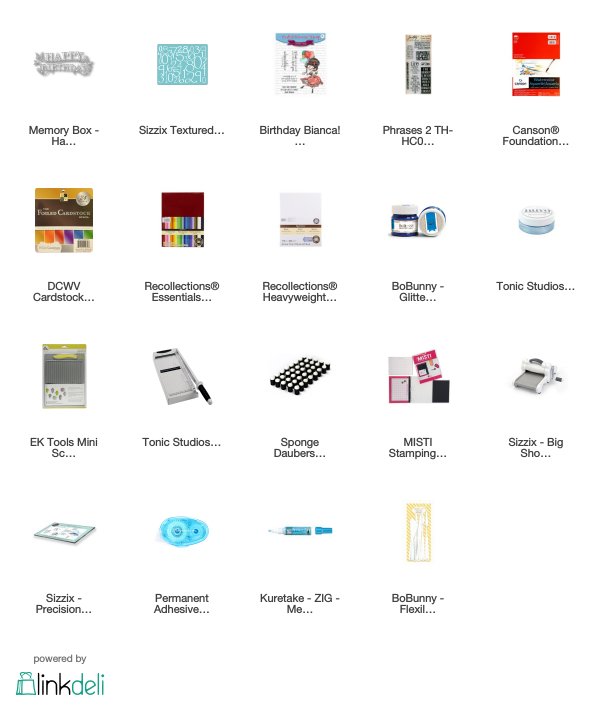 Challenges