"Eep Opp Ork Ah Ah!" means "I love you!' My card features an alien stamp set and inks from Kraftin' Kimmie Stamps on a single layer card.
Putting It Together
I use Evernote to keep track of the stuff in my stash. I have a special tag for items I haven't yet used the first time. While looking through my unused Kimmie stamps thinking about the purple and orange challenge this idea jumped out at me.
I decided to make it as a single layer card so did a dry layout on a card base made from 140lb watercolour paper trimmed and folded into a card base.
I stamped the planet and alien with black. I didn't do any masking, wanting to do a quick card. The planet does cross over the feet but it doesn't stick out when it's coloured.
I decided to use a Detail Blending Tool to do a rough sponged colouring of the planet with Kimmie ink.
The planet turned out so well, I decided to do the same with the alien using the dark purple.
I decided to use a Clarity brush with the lighter purple for a hint of purple sky.
I used a waterbrush and rose for the alien's mouth and tongue. I then used a touch of mossy green for the eyes.
My Kimmie ink palette and tools with the addition of a Clarity brush.
I added a few details with black Gelly Roll Glaze and Uniball Signo white. Then I added Glossy Accents to the tongue for a whimsical wet effect.
Inside, I used the Clarity brush and light purple, stamped a sentiment, and stamped stars with orange.
Supplies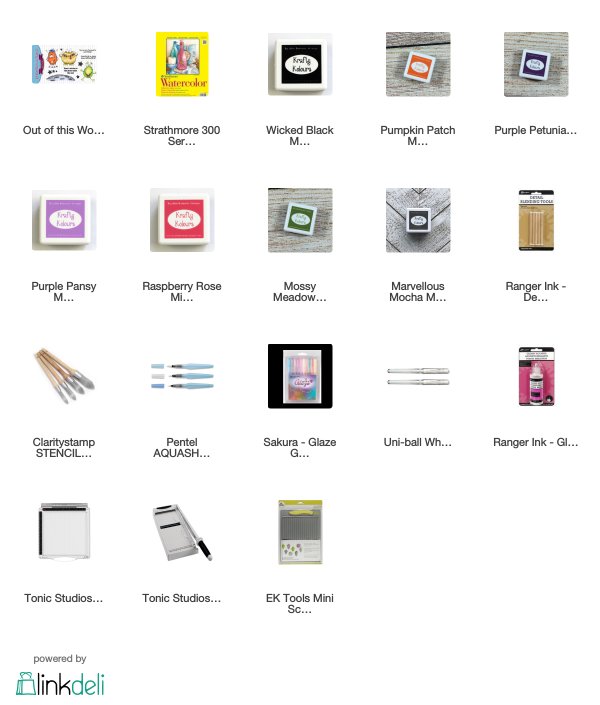 Challenges