Goooood morning and welcome to our
November Release Krafty Peeks at Kraftin' Kimmie Stamps!
As with some other releases, Kimmie offered a Surprise Kit to invite guests to join the design team in introducing the new products. I am one of those guests who bought the kit last month. I saved on shipping and picked up my kit at the Kraftin' Kimmie Kraft Retreat last weekend.
Kraftin' Kimmie is adding KRAFTY STENCILS to our line of KKS products!!! And they are AMAZING! You can combine them with the Krafty Kolours Inks...with texture pastes, modelling paste, glitter paste...and make so many fun backgrounds and patterned papers!!
And speaking of INKS......Kraftin' Kimmie is also bringing you THREE brand NEW Krafty Kolours INKS this month!!! Two fabulous colours for winter, BUBBLY BLUE and GRANITE GREY, PLUS a fabulous new
kolour
for your no-lines colouring techniques: TOTALLY TAUPE!
And you'll get to see ALL of our new goodies in action over the next few days of November Krafty Peeks and they'll all be released at our LIVE Online Release Party on Saturday, November 10th at 1pm EST in the Krafty Friends group!
For now, hop around and check out some samples from our Krafty Kustomers!!
Putting It Together
I spent a lovely weekend at the Kraftin' Kimmie Krafty Retreat in London, Ontario. While at the retreat, I made several cards in addition to spending time in wonderful classes and meeting fantastic fellow krafty friends. Next year's retreat will be in September. I'm hopefully going to be able to go again, too.
I took these photos with my phone while making this card at the event. #kraftyretreat2018
At the retreat, one of the games we had was to pull challenges from a basket. I had picked the challenge of "clouds" which gave me the idea for this card.
I decided to make a single layer card with a stencilled background so I needed to make a mask first. I used 3 Post-It Notes to cover the space of the stamp and then stamped it with my stamp platform. I carefully fussy cut around the image, keeping the three Post-Its together. It would be easier with a masking sheet that's larger rather than 3 Post-Its, but that's what I had available in the stash I brought with me.
I stamped the image on the card base where I wanted it before covering it with the mask. I also masked the back of the card with Post-Its so I wouldn't get ink on the back.
I used one of the new Kimmie stencils from the November release, Krafty Scenery. The stencil does clouds, hills, and circles. For clouds, I laid the stencil over the card and brushed up with the blending brush using Mermaid Melody and the new Bubbly Blue inks.
I then flipped the stencil to add a hill with the new Granite Grey
I removed the mask and coloured the pals with Prismacolor pencils, keeping track of the ones I used on a scrap of paper.
Inside, I used another of the new Kimmie stencils, Sweater Weather, to add a bit of soft detail with Purple Pansy. The sweater look of this stencil is a great counter-point to the cool sentiment and frosty image. I masked the centre with a scrap I had with me to leave an inviting white space for a handwritten sentiment.
Supplies
The first three links are to the Kraftin' Kimmie shop because the items won't be released until Saturday, 10 Nov, at 2pm Eastern. All of the new Kraftin' Kimmie items showcased this week will be released then.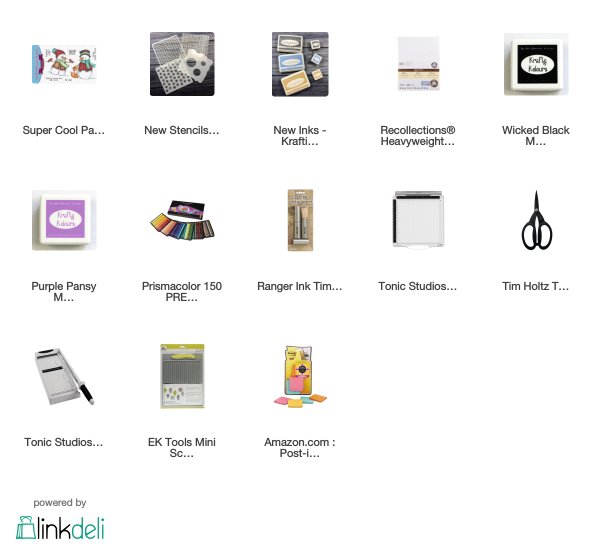 Challenges