Keep calm and make cards! This popcorn box features one of the brand new stencils by Kraftin' Kimmie Stamps, Beautiful Burlap, and a Spellbinders die with a gel plate technique.
Putting It Together
I'm still working on blogging the projects I made during the Kraftin' Kimmie Stamps Krafty Retreat last weekend. My day job keeps getting in the way of me spending time writing *laugh*
For the retreat, I had die cut a few things to bring along. One of the items I brought was several cuts of the popcorn box from Spellbinders. I assembled and used a couple of them while I was there, one as a brush/pen holder and another as a midden pot (small trash can).
I had brought the popcorn boxes along, too, with the idea of decorating some. So, after the Inky class, when I drew the challenge "new technique" from the retreat's challenge basket, I got an idea to cut one into panels to decorate another. I used the trimmer I brought to cut down the panels to mount on another box.
To decorate the sides, I decided to use the gel plate and stencil technique from the Inky class. I first generously squished three of the ink minis on the plate: Lovely Lagoon, Purple Pansy, and Mermaid Melody.
I then laid the stencil over the ink and used a very damp wet wipe to pick up the ink through the stencil.
I laid one of the side panels in the ink and used my fingers to press it down and smooth it over the ink.
The visual texture of the Beautiful Burlap stencil is gorgeous.
I repeated the process with the other three panels and then adhered them to an intact box. I love the uniqueness of each of the panels.
I used a sentiment from the stamp set that was made for the retreat to create a sentiment panel. I brought along some framelet dies and borrowed a Big Shot from another krafty guest who didn't fly to get there. *grin* I used yellow to ink around the edges of the sentiment to make it stand out even more. I adhered it to the box with foam mounting tape. At the event, I assembled the box with repositionable adhesive so I could take it apart and lay it flat to carry home in my suitcase.
Supplies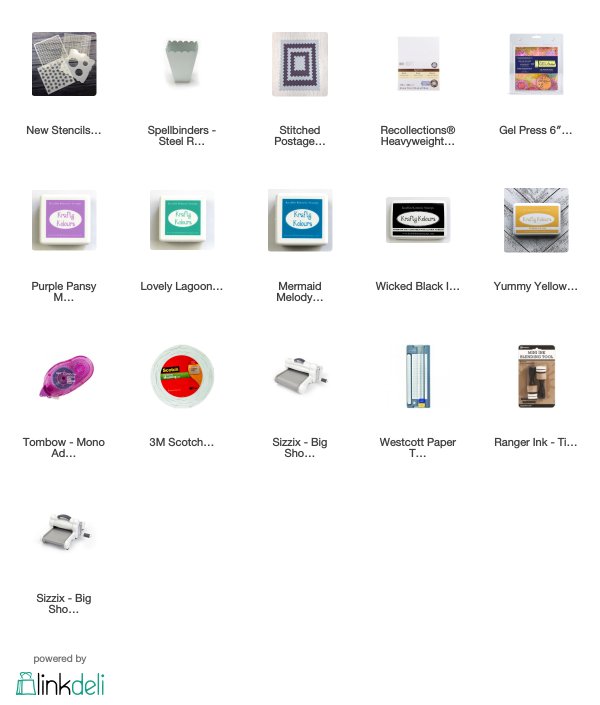 Challenges