Happy Yule! Let's deck the halls and have a wonderful winter holiday!
This card features the stamp and die bundle, Carols of Christmas, in the current Stampin' Up holiday catalogue as well as current cardstock colours, die cutting, and embossing.
Putting It Together
To encourage us to use the lovely products we've been buying through her, my Stampin' Up demonstrator, Liane, has been giving us challenge each month using some of the current colours. For September, the challenge was Powder Pink, Fresh Fig, Sweet Sugarplum, Old Olive, and Daffodil Delight. We don't have to use those exact products (especially if we don't have them), but I have been making that my goal. I also try to use only Stampin' Up (or Stampin' Up available items) for all but the adhesives and tools. Thus, I do use my Stampin' Up at least once a month *laugh*
I decided I wanted to do a colour backed die cut. I thought I had taken a picture of my first dry fit and the stack of 3 colour card stock, but.. this is the first one I took. I used the two corner dies twice to make a frame for the sentiment. The top paper is the gorgeous dusty purple, Fresh Fig.
The dusty rose, Sweet Sugarplum, is the bottom of the stack so I decided to use it to make light pink embossed flowers. The light pink embossing is very similar in colour to the Powder Pink.
I used the corner die to cut them out.
The holes are covered by the green, Old Olive.
I dry fit the flowers over the cut outs and the sentiment stamp.
I embossed the sentiment in yellow. The retired Curry embossing powder is very similar to Daffodil Delight. I was hesitant to use the yellow for the sentiment, but I am pleased with how it turned out.
I used release paper while adding tape runner to my die cut panel.
The three cardstocks adhered together.
I used foam mounting tape to pop-up the flowers. Looking at it in the pictures, I could have used the flowers cut from the Fresh Fig layered under the pinks. Hmmm.. next time.
Inside, I stamped ornaments from the set in Daffodil Delight. For the cardbase, I used Natural Vanilla, a retired Stampin' Up cardstock that I love.
Supplies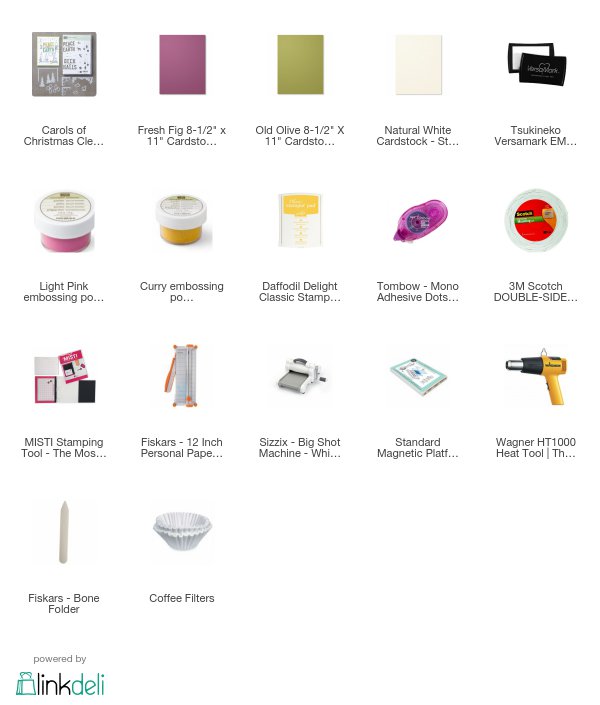 Challenges