As Halloween approaches, decorating is on my mind. I love Halloween. It's my favourite holiday.
This project features a small wooden coffin box embellished with a Distress ink, items molded from resin and Mod Podge Melts, wood cuts, and dollar store glass bottles.
Putting It Together
I spent Sunday crafting with a friend and it was grand!
I used Distress ink to colour and rough up the wooden coffin box I bought at Micheals: Walnut Stain, Ground Espresso, and Black Soot. I used a bit of scrap paper to hold on to the box while I coloured it on all sides. I also used Black Soot to darken the way too shiny hinges and clasp. I was away from my own stash or I would have used Vintaj on the metal bits.
I decided to put a poison bottle wood cut inside one side. I got the wood cut from Joanns and coloured it with Distress ink: Twisted Citron, Crushed Olive, and Ground Espresso.
For the other side, I used three bottles I got at the dollar store. In one I put Nuvo Glow Drops, another glow-in-the-dark glitter, and in the last Adirondack alcohol ink with a little of the glitter.
On the front, I added a skull and crossbones I molded with Mod Podge Melts and glow-in-the-dark pigment powder. I also added a chipboard word and a resin bauble I cast months ago. The MP Melts is faster to create embellishments than resin but is not as hard or shiny and clear.
Inside I added sticker words and another resin bauble I had cast and embellished with a crow sticker. I used chipboard to anchor the wood bottle and have it away from the back of the casket lid. I anchored the bottles with Glue Dots on their bases.
Supplies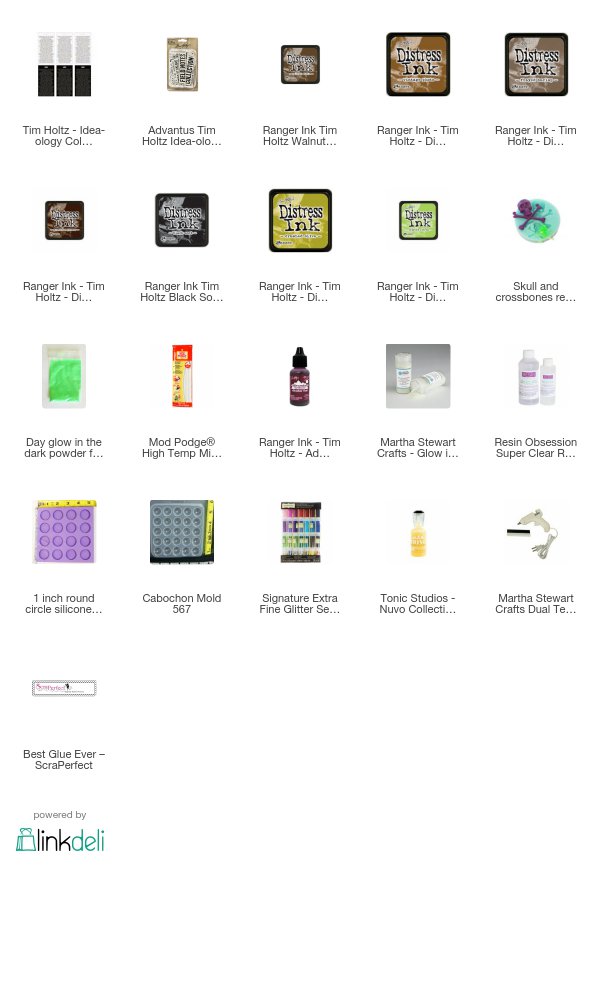 Challenges