A lovely strappy shoe as a vision in pink, this card features a Sheepski Designs digital stamp, Prismacolour pencil, and die cutting with other embellishments.
Putting It Together
Pink!! A monochrome card in various shades of pink.
I printed the digital stamp on lightweight watercolour cardstock several months ago and put it in my image stash.
On an earlier project I discovered Prismacolour pencils work wonderfully on the watercolour surface. I used a limited palette of Blush Pink, Pink, Crimson Red, Process Red, White, and Dark Umber.
I gave the card a bit of shine with foiled cardstock matting. I double cut the image and matting and single cut a patterned paper panel. I decided to trim the patterned paper with a double cut after I dry fit them together.
I found the sizing I wanted and used washi tape to hold the die in place.
I dry fit them on the card base and added a bit of die cutting that's been in my stash from an earlier project I didn't use it for.
I decided to add a bit more to the background and used a Simon Says Stamp stencil with Distress ink and Clarity brush.
I dry fit them together and liked the feel. Good thing, too, since I had stenciled directly on the card base.
I added the patterned paper to the card base and added the pieces of the cut die cut. I cut the die cut in the middle so I could spread it to both sides.
I used foam mounting tape under the foiled matting of the image to give it dimension. I added glittered velvety hydrangea flowers and glittery dots.
Inside, I stenciled with a mask to leave a clear central area with the stenciling detail. I used a Unity Stamps sentiment as an affirmation to match the theme of the card.
Supplies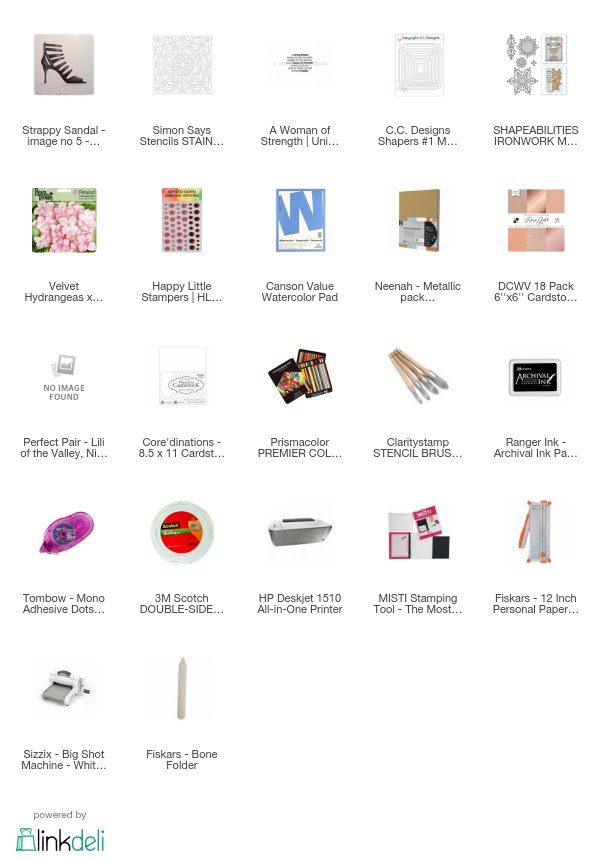 Challenges
Simon Says Stamp Monday:
Monochrome
Crazy 4 Challenges:
Inspirational Card With Pink
Creative With Stamps:
Shoes
Crafty Hazelnut's Patterned Paper:
Anything Goes
Simon Says Stamp Wednesday:
Anything Goes
Crafting From the Heart:
Anything Goes
Penny's Paper-crafty:
Anything Goes
Crafty Gals Corner:
Anything Goes