I love the start of a journey, the beginning of an adventure when anything is possible and the vista is wide open. I love starting out with no specific destination in mind and just going out to get 'lost' and find new places and things. My plaque features a House Mouse and Friends stamp watercoloured with Finetec and plain watercolour and paired with CC Designs die, Tim Holtz frame, and DCWV paper.
Putting It Together
The current House Mouse challenge is Travel so I looked through the House Mouse stamps I hadn't yet used (I do that first to encourage myself to use stuff I get) and the butterfly with mouse sang to me.
And then I got the bright idea to have it over a landscape picture. I have a 12"x12" DCWV pad that has several outdoorsy landscape sheets. This one with the pine trees already has this fabulous sentiment that fit so perfectly. This is when I decided I wanted to make a plaque instead of a card.
I stamped the image on watercolour paper with brown ink.
I did a quick watercolour with my wheel set and a waterbrush. I kept the stamps furry texture with the brown ink just adding shading and colour to the mouse.
For the butterfly, I decided I wanted a bit of shimmer so I used Finetec pearlescent watercolours.
I fussy cut the mouse and butterfly with a margin and found a frame in my stash that fit the paper and image perfectly, but since I started late I ran out of time and had to leave it for the next day.
I am so glad I had to leave it overnight because I thought about this pine tree border die in my stash from a Christmas set. I thought it might be nice to have die cut trees in the foreground.
I cut trees from a couple textured greens and dry fit them with the picture.
I decided to use Gilder's Paste to 'stain' my frame. I wanted it to look slightly antique-y but not overly so. I used Sandlewood rubbed all over and Antique Gold rubbed just on the bead strip.
I used liquid glue for everything except the mouse and butterfly. I popped them up with foam mounting tape to give them a little dimension from the background.
And so the Adventure Begins! This is going in my craftroom on top of one of my shelves.
Supplies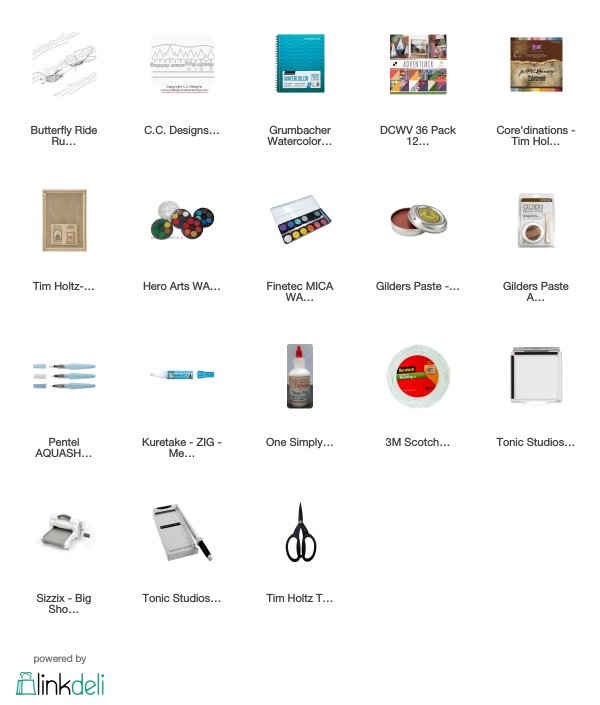 Challenges