Otter-ly fun card for you today. I used a Kraftin' Kimmie Stamps set which I coloured with Daniel Smith watercolours and paired it with Kaisercraft patterned papers and Prima Marketing charms.
Putting It Together
Kraftin' Kimmie has been having a daily colouring challenge and I've been trying to mostly use stamp sets I haven't used before. On weekdays, when I am at my day job, I can 'sneak' a little colouring time at lunch.
I used Daniel Smith watercolours on these wonderfully convenient palettes with paint daubs. I carry them in a pouch along with some waterbrushes and a few small tools. I had stamped the image with Marvelous Mocha on a scrap of watercolour cardstock. I was originally just going to colour the otters but added water around. I kept track of the colours I used on the scrap as well.
Hematite Burnt
Scarlet Genuine
Sicklerite Genuine
Geothite Brown Ochre
Burgundy Yellow Ochre
Naples Yellow
Van Dyke Brown
Cerulean Blue Chromium
Ultramarine Turquoise
I was remiss and didn't take pictures while putting the card together *laugh*. I used a dimensional embossing folder on a panel of watercolour-y cardstock for the background. I used a narrow rectangle die to trim the otters and a panel for the sentiment. The notch out of the otter panel is because I had used a scrap to stamp the image. I decided to use a shell patterned paper for the sentiment because I thought it went together well. I embossed the sentiment to stand out more. I later added a couple of charms to the sentiment panel to finish it off.
Inside, I decided to use the same shell paper as a panel for the sentiment and another otter. I stamped the sentiment in Wicked Black and the Otter in Marvelous Mocha. I then used a waterbrush with the brown ink to add a bit of colour to the otter to make him stand out better.
I used a kraft card base because I liked the way it looks with the aqua colours (and I have quite a bit of the heavy cardstock in kraft but am almost out of my white). When I stamped directly on the kraft for the inside, I didn't like the way it looked, thus the inside panel which I really like better anyway.
Supplies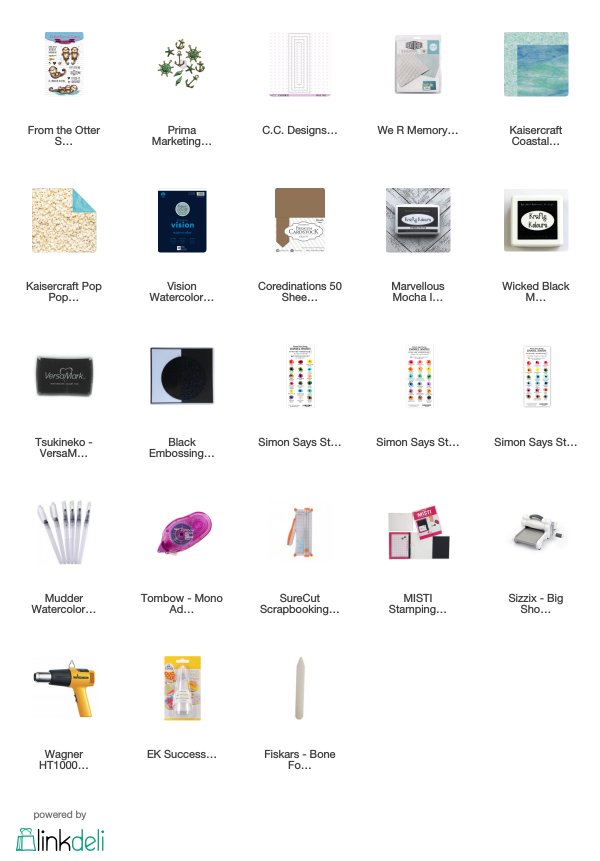 Challenges
Your Next Stamp:
#93 Sketch
Simon Says Stamp Wednesday:
Use a Die
Tuesday Throwdown:
Faux Stitching
(die cuts)
Simon Says Stamp Work-It:
The Great Outdoors
Watercooler Wednesday:
Masculine
Crafty Hazelnut's Patterned Paper:
Anything Goes
Addicted to Stamps and More:
Anything Goes
Crafting From the Heart:
Anything Goes