Sometimes the best cup of joe comes from a retro diner. Sometimes that's the coffee you can use as paint stripper. My single layer card features a Kraftin' Kimmie Stamp set with Oxide inks on kraft.
Putting It Together
I woke up a little bit early this morning with this idea starting to crowd in my head. I got up and, before even eating breakfast or getting ready for work, put it together.
I stamped both on the kraft cardbase and on a full adhesive Post-It to use as a mask.
I cut a rough circle around the images and put the mask over the stamping on the card.
I used some more Post-Its to mask off all but a strip.
I used a stencil to add stripes using a blender tool with Oxide ink: Peacock Feathers.
Removing the mask, I could see this was going in a direction I liked. The Peacock Feathers and stripes give a nice retro feel with the pot and cup.
I decided I wanted to do a halo of sorts around the pot and cup so I fussy cut the mask to fit over each.
With the masks in place I used a detail blending tool with more oxide: Antique Linen.
The halo turned out pretty good, and I decided to use a water brush and give the pot and cup a quick light wash of colour. I had to be careful how much water because of the cardstock. I used a heat tool to try to keep the distortion to a minimum. I also stamped the sentiment in the bright red Candied Apple that I used on the pot. I decided to make the cup a white porcelain with Picket Fence.
Just four colours.
Inside, I stamped a sentiment and another cup that I gave a light wash of the red.
Supplies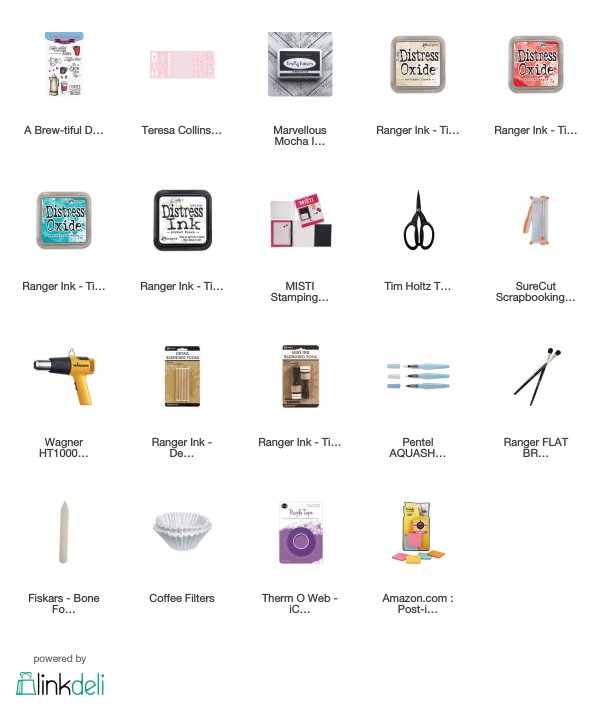 Challenges