Doing the Chicken Dance to celebrate Easter and Spring. Such a cute image from Bloobel Digital Stamps. I coloured her with Prismacolor pencils.
Putting It Together
For Christmas I got a full set of Prismacolor pencils and had been struggling with the extremely awkward long box with super flimsy plastic pencil trays. So, my sweetie finally added the soft case I had been wanting to his Amazon order. I got it over the weekend and spent some time transferring all the pencils to their individual elastic slots. I subbed in the pencils from my old set keeping those new ones for later. I -LOVE- the case! I took it to work with me yesterday to colour at lunch. I couldn't have done that with the awkward box.
The case is big, yes, but it snuggly holds the pencils and the four zippered sections are infinitely easier to flip through than the flimsy pencil trays. Instead of a manual sharpener, I put my fluffy makeup brush in the case and also added tortillions and stumps, too, since there are more slots than pencils.
Last week I had printed a few Bloobel images on a sheet of Canson Mi-Tientes paper. I cut the images into individual panels for later colouring. I slipped a couple into my case to take with me to work.
At lunch, at work, I only got the skin, hair, and eyes done. I keep track of the colours I use for myself.
At home, I finished the colouring. I used some of the same colours in the suit that I did on the chick for
Chick Card
. Since I wrote down the colours I used, I could use them again easily.
I fussy cut the cute dancing girl in her costume and dry fit her with different dies on various patterned paper in my stash until I found the perfect fit. I rarely chose the background or design the rest of the card before I start colouring.
I cut a larger scalloped oval of lavender glittered paper for a bit of sparkle and then used gold polka dot cardstock for the background. The colours together are so Spring-y and fun. I think this image from Bloobel is so delightful, too.

I stamped the sentiment with Duckling and then Coral to have a colour somewhere between them.


Supplies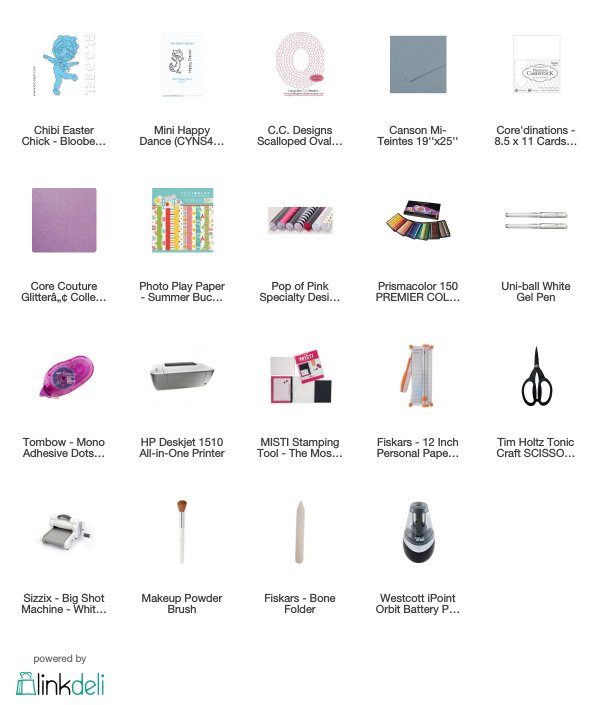 Challenges