Dino party on a box perfect for a child's small gift! My gift box features a Kraftin' Kimmie Stamps set and embossing with a Thinlit Plus die for the box and dies from My Favorite Things and Elizabeth Craft Designs.
Putting It Together
For my birthday in February, I got a Big Shot Plus in a package with a couple dies. One of the dies was this box creating thinlit die.


I dry fit the box die with the dinosaur stamps from the Kraftin' Kimmie set and a die from the My Favorite Things Mod Square set.
I stamped and embossed the party dinos and cut them with the Mod Square. I also cut the box. I dry fit one more time with the dino's upside down from the final orientation and not on the right spots, either, but just for sizing.
I assembled the box using the Zig glue pen. Since it's a Plus die, I only had a single cut. The score lines from the die were crisp and the box was easy-peasy to put together even without looking at directions.
I added the Mod square dinos to the sides. The lid comes down just a tiny bit over their heads, but that's okay.
I embossed and cut a sentiment to add to the top with the three party dinos on the front and sides of the box. I also added a foiled die cut from Elizabeth Craft Designs to the lid front and sides. The back I left plain.
Dino on the front has a cute cupcake.
Dino on the side.
Dino on the other side. The side wasn't large enough for the cute balloon from the dino's tail.

Sentiment on the top.


Supplies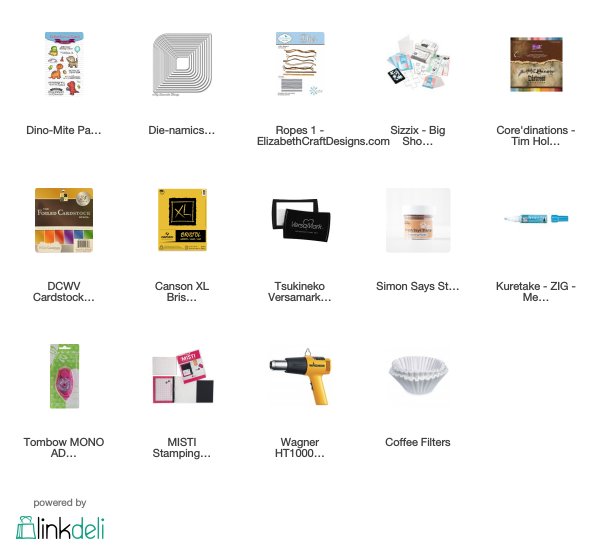 Challenges