As part of my Craftroom transformation, I decided I wanted to have decorated boxes for my stamps and other things. For my first decorated box, I painted a small Tjena box from Ikea and added a Kraftin' Kimmie stamp coloured with pencil. Rather fitting for a box with Kraftin' Kimmie Stamps.
Putting It Together
When envisioning my new craft space, I thought of a glade in a forest or a tree house, how peaceful and yet how playful both are. This gave me the idea to have my shelf wall a darker green than the rest of the room with leaves on the shelves. When looking for storage boxes at Ikea, I came across the small Tjena (which was $1 off for Feb with an Ikea Family membership) which fits the stamp sleeves, 6" x 6" paper pads, embossing folders, and small steel rule dies perfectly.


The paint for the room is two shades of green from Rona, a Canadian hardware store.
I had stamped the kitty with black ink and used coloured pencils to colour him up. My own kitty is black with an orange colour so I coloured this kitty to be like him.
I fussy cut him with a narrow margin. I have a Scan & Cut on my wishlist, but it's going to have to wait a while.
I used a Tim Holtz Bigz die to cut the branch from foam. I then mounted it to a wooden block that I had unmounted a stamp from. I used a long retired Stampin' Up Bigz die to cut leaves from foam and mounted them to blocks, too.

After painting the box with the darker green of the room colours, I used the foam die cuts to stamp the branch with Distress Paint and the leaves with the lighter green room paint. I used some Distress Stain to add additional colour to the leaves.


I then adhered the kitty to the box, sitting on the branch, and a label.
I put the decorated box on the shelf with the other stamp boxes. It's the first one I decorated so it does stand out quite a bit right now. I'm still in the organising phase of my craftroom transformation.
A closer view of the shelf that's filled with Kraftin' Kimmie goodness. I have everything in Evernote so I won't need to look through each box to find something.
If you want to see more of how I am creating my new crafting space, my Craftroom Transformation, I have a started writing the blog posts (all prefaced with "Craftroom Transformation") and also have nearly daily updates on my Facebook page:
https://www.facebook.com/RijackiDesign/
I started the project the weekend before my birthday and am still working on it.
Supplies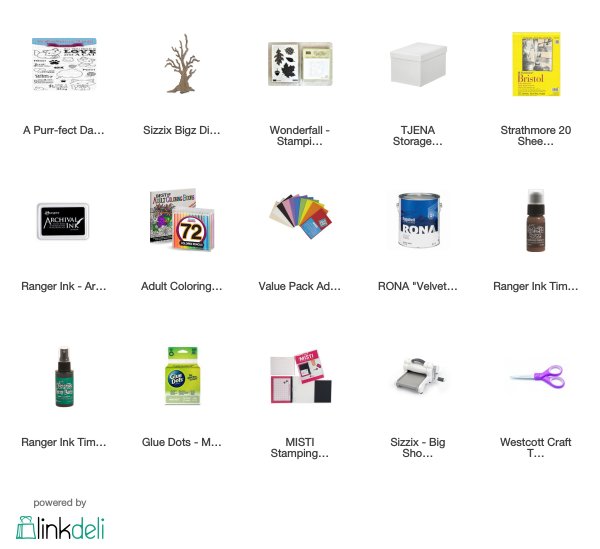 Challenges