You matter a whole bunch to me! My card features a Newton's Nook background with a limited palette of Zig Clean Color watercolour markers with an embossed resist.
Putting It Together
When I was young, my grandma (my dad's mom) owned two flower shops. I spent a lot of my youth in those shops, mostly in the one in Stanwood, WA. I still love the smell of a flower shop. On the van they used for flower deliveries was the punny tagline "Petal Pusher".
After a long time away, six years ago I moved about 2 hours from where my grandparents and aunt lived and the shops were. So much has changed. It's almost painful to go back there. When my grandma and her daughter, my aunt, retired, the original shop and the name was sold to one of the girls that worked for them. Ledum's Floral is still in Stanwood but not in the same place. The old location of the shop still exists but that street is no longer the thriving downtown it was when I was young. But the places that are still there do take me back into my memories. Sadly, the house were my grandparents lived was moved and the dyke for the river was moved, too. The place where the house once was and all the places we used to play is now marsh and reclaimed by the spread of the river.
Anyway, enough nostalgia.
I stamped and embossed the flower background on watercolour cardstock with a fine black embossing powder. I used the emboss as a resist with Zig Clean Color watercolour brush markers. I limited my palette to just four colours, purple, light green, yellow, and orange. I used a Prima waterbrush to move and lift the colour.
For the sentiment, I decided to use vellum and dry fit it first before embossing the sentiment with gold and trimming the vellum. I wrapped the vellum around the image panel and adhered them both directly to a kraft card base. I used kraft as an accent to the flowers.
Inside, I stamped a portion of the flower background as an edge and added the other sentiment from the kit.
Supplies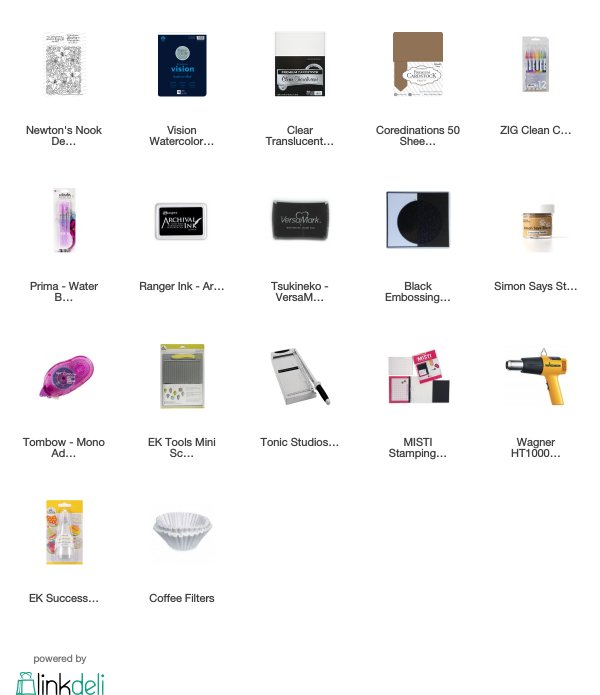 Challenges