Catching the big fish, either literally or allegorically, is the dream of many. "Don't call it a dream, call it a plan", especially when you do succeed in achieving it. My nautical, fishy, dreamy card features a digital stamp from The Paper Shelter with coloured pencil and sentiments from Unity Stamps and an accent stamp, inside, from Emerald Creek.
Putting It Together
I've had this digi for a while and finally got a chance to fit it in.
I got these pencils as a gift from my sis-in-law & brother's family a while back. I had set them aside while I was learning to use the full Prismacolours set I got around the same time. But I really do want to use all my supplies and give different types of supplies a try. So, I gave these pencils a try on MiTientes.
I didn't have my sharpener with me so I used the pre-sharpening that was very inconsistent. The pencils are a little... umm.. scratchy and the set is decidedly short on tans (as in none at all) but other colours have too many with barely a shade difference. They do blend ok and I do think they would do better with proper sharpening, but the pencils also have no marking to differentiate the colours which would make it difficult to record which was used to replicate in a future project or even to reliably go back over an area if you put the pencil back. The case they come in is little awkward, but usable. For their price, they're not a bad set just be sure to have a sharpener handy even when a pencil has never been used.
As a side note, this tweedy grey MiTientes is in the pastel mixed colours pad. I like using coloured paper for pencils and thought this might be a nice background for the images I chose to print. I coloured up two other images at the same time as this one and I really like this colour for the paper.
Back in my workshop, I added touches of Glossy Accents to the water and the fisher's sweat drops for a bit of clear dimension. I also added dots of Posca white paint pen to the eyes. I found a die to fit the image.
I die cut the image and dry fit it on patterned paper and a black A2 card base (5 1/2" x 4 1/4").
I put the card together popping the image panel up with foam mounting tape and adding a sentiment. The sentiment was clipped from a larger sentiment to fit this card.
Inside, I added a lightly patterned panel and scrap from the patterned paper I used as the background on the front. I also stamped a lure to tie into the fishing and a sentiment that lets this card be for any accomplishment.
Supplies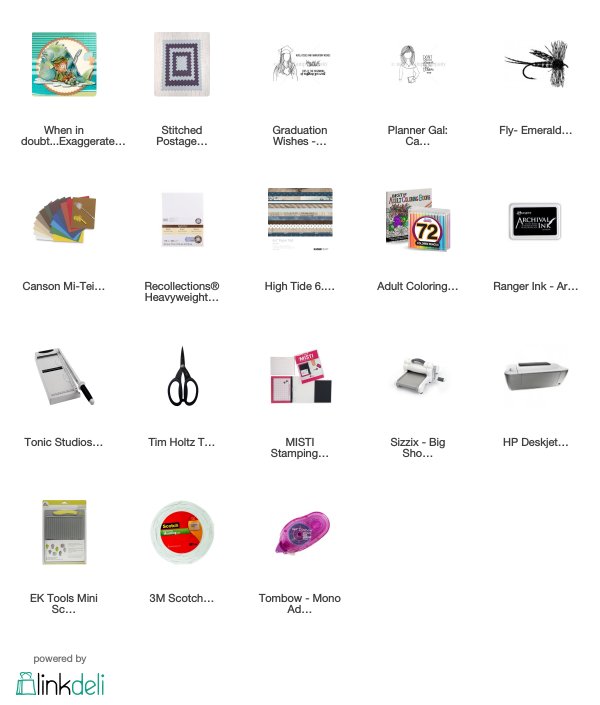 Challenges