Splish, splash I was takin' a bath... soak all your troubles and cares away. My bathy gift box features a retired Kraftin' Kimmie set with Prismacolour pencil colouring and Sizzix die and embossing folder.
Putting It Together
Mmmmm... soaking in a tub full of lightly scented soft water melting away the stress.
I stamped the image with Party Peach and used Prismacolour pencils to colour in a "no lines" technique. If you want to see more of my colouring process, check out my other post:
https://rijacki.blogspot.com/2019/07/bathing-beauty-colouring.html
.
After loosely fussy cutting the image, I used Nuvo Dream Drops on the bubbles in the bath for iridescent dimension.
To match the bath in the image, I wanted to get some bubble bath packets for the gift part of this project, but couldn't find any in the limited places I had available to me to get the project done. Instead I found a fizzy bath bomb and milk bath packet.
I used the box die and embossing folder from the Big Shot Plus starter package to make the box sans lid. I cut the box from heavy white cardstock before embossing with the dots. I then brushed on Blubbly Blue for a subtle bubbly blueness (a bit too subtle for the camera to pick up).
I added a cardstock tab for the image to stick up above the box with its back braced by the milk bath packet then added a ribbon, sheer with blue and white bubbly dots (how cute is that!) and a sentiment on a die-cut panel with blue enamel droplets. I used double-sided tape on the ribbon and sentiment to hold them together but still let the ribbon slip off the box so the bath bomb can actually be used.
Supplies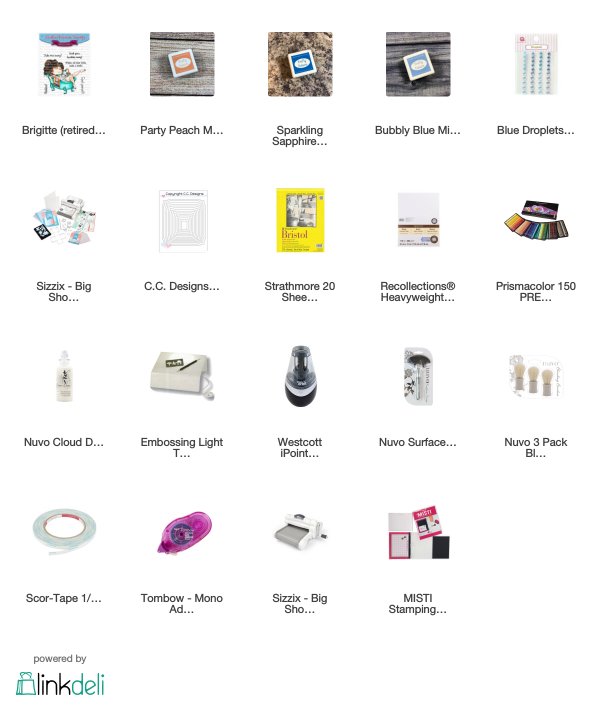 Challenges