In the turmoil of life, it's good to have someone who is your anchor to ground you and keep you safe. My card features stamp, stencil, and inks from Kraftin' Kimmie Stamps with Bo Bunny glitter paste, embossing, and Spellbinders die.
Putting It Together
I have a box where I store panels I make without a specific project or if a project shifts while I am making it and the panel isn't needed. This way I can experiment with techniques or ideas and still keep them useful.
I used three inks and one glitter paste with the Wonderful Waves stencil. I shifted the stencil to a new position for each colour. I used the inks (Bubbly Blue, Salty Sea, and Lovely Lagoon) with a blender tool and the glitter paste (Seafoam) with a silicon brush. I use Press and Seal to keep the cardstock and stencil in place.
I dry fit the sentiment (sadly long retired) and two dies with the panel.
I embossed the sentiment on a strip of vellum to have the sentiment blend in and still stand out. I did another dry fit with the die cuts and sentiment. I layered the anchor with a scrap of heavyweight black cardstock to give it a small bit of dimension.
I trimmed the panel to fit the die-cut frame and added baker's twine to the anchor. I adhered just the lower part of the anchor, leaving the loop for the twine free. I used mini glue dots to adhere the twine in 3 spots but otherwise left it free. I used the powder tool on the glue dot spots to take away any stickiness the twine didn't cover. I added the panel to a top-fold white card base.
Inside, I used a blender brush to add subtle waves with Salty Sea but otherwise left the inside blank.
Supplies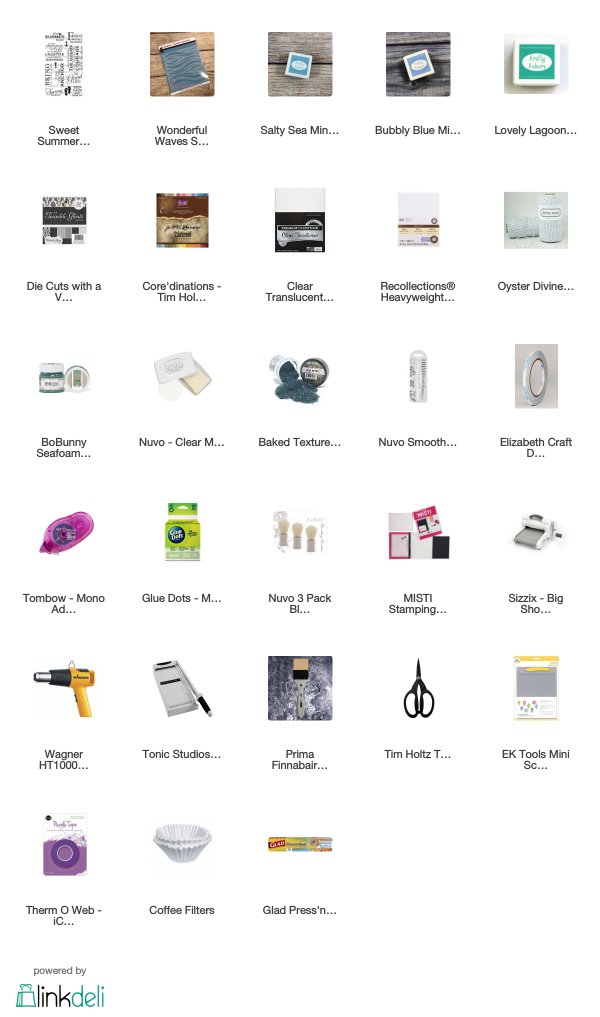 Challenges