The challenge for this February on
Sheepski Designs challenge blog
is Red, Hearts, Romance, and/or Love. My inspiration piece combines Fantasy Romance with all of those. Come join us with the challenge.
Fantasy Romance
depicts an elven couple in a loving embrace. The alternate image, included in the download, added wings to the male.
I coloured the image with PrismaColor pencils and used an Umbrella Craft die to create a scalloped heart window to frame them with a heart-filled paper.
Sheepski Designs challenge blog:
https://sheepski-designs-challenges.blogspot.ca/
Sheepski Designs Etsy shop:
https://www.etsy.com/shop/sheepskidesigns
Putting It Together
I am so glad I got the full set of PrismaColor pencils when it was on such a good sale in December. After doing a Kit and Clowder class with the older 72 pencil set I originally had, it was like a bell rang in my head and unlocked a key to how they work. The PrismaColor pencils are coming neck and neck with water-medium for my favourite image colouring medium.
Before I decided to use the pencils to colour the image, I printed it on light lightweight student-grade (90lb) watercolour cardstock. I had the idea to use the heart die to create a window frame with the foiled heart paper from a My Mind's Eye pad. I was originally considering a translucent gold inner window/matte so I did a dry fit with the two hearts on the image.
And then I decided to use PrismaColor pencils to colour the image. Interestingly, the heavier watercolor paper is better with the pencils than this lightweight paper. The tooth (bumpiness of the paper) is easier to flatten on the heavier paper. Flattening gives a smother more blended look. I intentionally don't fully flatten the hair since I like the rougher, hair-texture.
skin: Rosy Beige, Beige Sienna, Seashell Pink, Beige, Eggshell, White
her hair: Black Raspberry, Terra Cotta, Henna, Peach Beige, Goldenrod, Dark Brown
his hair: Goldenrod, Burnt Ochre, Yellow Ochre, Cream, Light Umbre
his clothes: Violet Blue, Ultramarine, True Blue, Light Cerulean Blue, Blue Indigo, Silver, Gold
her clothes: Dark Green, Grass Green, Apple Green, Chartruese
eyes: True Blue, Grass Green, Black
lips: Tuscan Red, Crimson Red
I really liked how vibrant the image turned out. I didn't want to cover up much of the image and, to fit better on an A2 card base, I decided to turn the heart on its side. I actually dry fit the die on the coloured image to see how it fit before I cut the foiled heart paper. It might have been a bit more intimate with an upright heart and/or the addition of the original planned translucent gold, but I was loathed to cover up the colouring. This layout is still impactful.
I matted the red hearts with gold mirror board and cut the heart from that, too. This gives a nice finished look and a slight bit of dimension.
I adhered the couple and the frame to a card base and added three rhinestone hearts.
Inside, I stamped a sentiment from Kraftin' Kimmie Stamps and added a heart from the smallest of the nested set cut from scrap from the front.
Supplies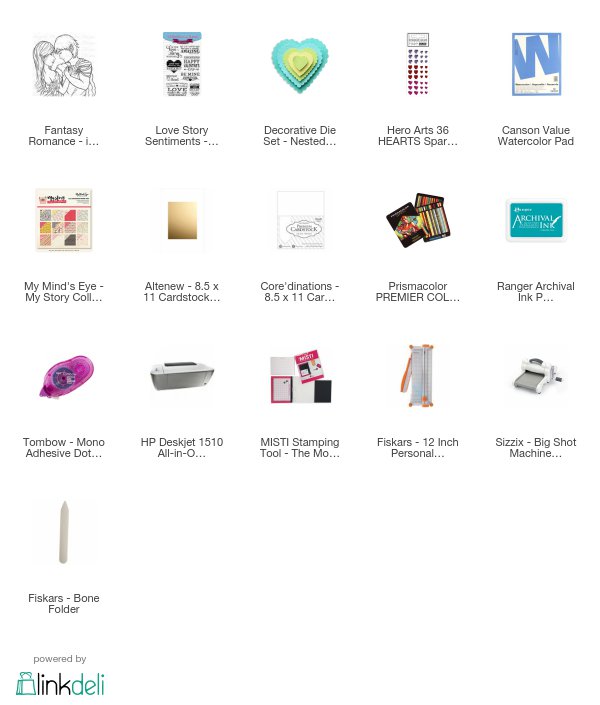 Challenges