Strong girls make for even stronger women! Every girl should know she can be anything she wants to be and that she can do anything the boys can, too.
I used a Kraftin' Kimmie stamp set with Prisma colour pencils to make a tall thin card.
Putting It Together
I found Canson Mi-Teintes at the Joanns in Tukwilla, Washington, when we were staying there for my birthday. Tukwilla is just south of Seattle. For my birthday we went to the Chihuly museum to be wowed by artful glass. But, I digress. I found Mi-Teintes in large sheets and decided to buy some to give it a try since it's the paper recommended by Kit & Clowder for pencils. I had to cut the 19" x 25" sheets, each making five 8 1/2" x 11" sheets I can use in my printer with a narrow strip left over.
I stamped using a light brown archival ink on the white Mi-Teintes to do a 'no lines' technique.
I used quite a few Prismacolour pencils to colour the image. I do like the texture of the Mi-Teintes with the pencils. I can understand why Kit & Clowder recommends it. It is easier to flatten than lightweight watercolour paper, but a rather more expensive and not as easy to obtain.
I trimmed the panel using a long rectangle die and fussed around with some ideas for a card layout. This was close but.. not quite it.
So I decided to make a tall thin card by cutting off some of the side to frame the image and matting.
Since the blue paper is so pebbley, I decided to use double-sided tape to adhere it. To make it easier to position, I put strips of release paper perpendicular to the tape strips.
After positioning, press down between the release strips before sliding them out from the sides. Pressing down evenly over the whole panel adheres the rest firmly.
Love the Neon Pink pencil and the bright fun it gives this girl.
Inside, I stamped two sentiments in purple and ink to bring the colours inside.
Supplies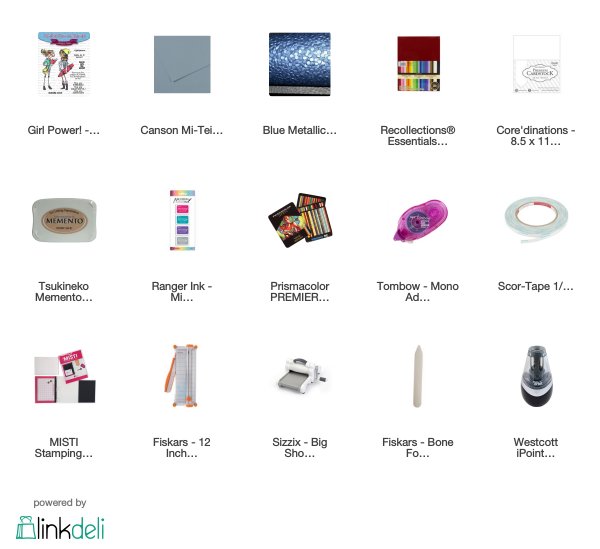 Challenges
Addicted to Stamps and More:
CAS
Incy Wincy:
CAS
Inspiration Destination:
Real Stamp
Simon Says Stamp Wednesday:
Add a Die Cut
Crafting from the Heart:
Anything Goes
The Sketchy Challenge:
Anything Goes