A few (well quite a few) years ago there was a movie with a HUGE lizard that got a tie-in with a fast food restaurant with a Chihuahua as it's mascot. The movie was Godzilla and the fast food place was Taco Bell. One of the adverts, the dog, looking for a really big meal was calling, "Here, Leezard, Leezard, Leezard." From the very first I saw this stamp, I thought of that advert. So... here he is in the city with his big big bone from a big big leezard.
This project uses a Kraftin' Kimmie Stamp set and a stencil made with an Impression Obsession die. Distress ink and water brush for the dog and Clarity brush for the stencilled city.
Putting It Together
I decided to do this project as a single layer postcard using a Strathmore watercolour postcard.
I stamped the image with a tan ink slightly off centre.
I used Distress ink and waterbrushes to colour the image in a 'no lines' technique.
bone: Antique Linen and Frayed Burlap
dog: Tie Dye, Rusty Hinge, Vintage Photo, Walnut Stain, Ground Espresso, Ripe Persimmon
To make a mask, I stamped the image with Stazon ink on plastic packaging film.
I fussy cut the plastic.
Using removable adhesive, I adhered the clear mask directly over my image. Because it's clear, it was easy to put in place.
To make my cityscape stencil, I used a die set from Impression Obsession and blank stencil plastic. I used washi tape to hold the die in place to run it through the Big Shot.
I made my large stencil with the skyline on two sides to give me 4 variations (flipping it over), but also have the two smaller strips, too, for masking or stenciling.
I put the stencil where I wanted the furthest most buildings to go and used the darkest colour, Faded Jeans, with a Clarity brush. I swept the brush up from the stencil, starting on the stencil then sweeping up to the top of the card. This puts the darkest colour on the stencil edge fading as it goes away.
I laid the second stencil for the closer buildings and used Hickory Smoke. I then masked the bottom with the flat blank stencil to add Weathered Wood. To get a darker, bluer sky I could have done the furthest set of buildings last, but I wanted a softer, impressionistic background for this project.

I added the sentiment, writing it on with a fine point black pen. I first wrote it lightly in pencil to get the placement.





That commercial still cracks me up.
Supplies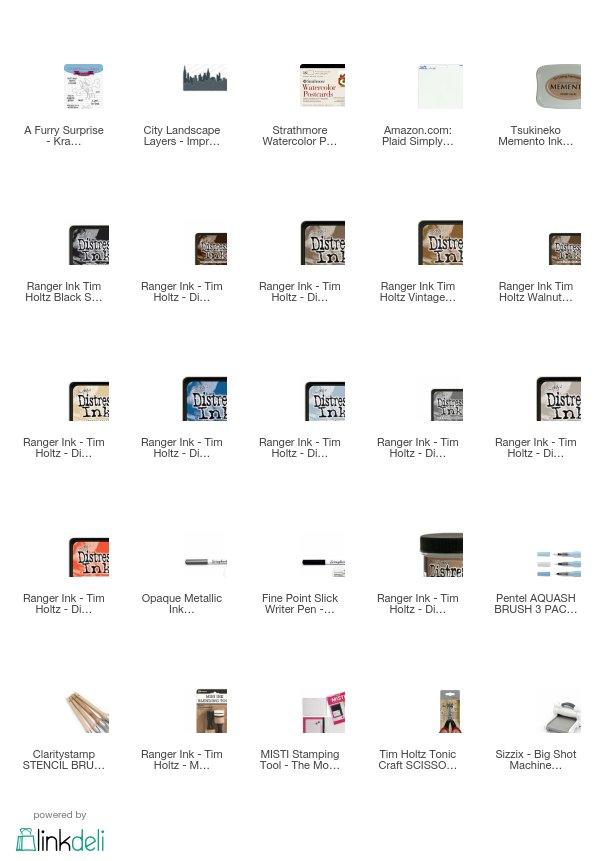 Challenges