Mug o' Mouse, hot cocoa is wonderful on a frosty day, perfect for a winter birthday.
This card features a House Mouse and Friends image coloured with watercolour pencil, background paper ny Doodlebug matted with Glitter Silk, and sentiments from Kraftin' Kimmie Stamps.
Putting It Together
I'm a winter child, my birthday is in February, so I love the snow and cold and all the cuddly warm drinks that come with it.
I stamped the image with Rich Cocoa on watercolour cardstock and tucked him in my stash of pre-stamped images so I could take him "on the road". I coloured the image with watercolour pencil and waterbrush while waiting in the airport for my flight to board on my recent trip to visit family.
Last year I discovered how soothing it was to colour up images while traveling and now I carry a stash of pre-stamped images and my watercolour pencils nearly everywhere I go. If I have to wait for a while, I get out my packet of bliss and do a bit of colouring. Wonderful destress. I don't have a huge number of watercolour pencils, so they easily fit in my purse along with a few waterbrushes. Since the water is contained in the brush, I don't need to have cups and a lot of space to do the colouring.
Back at home, I used a CC Designs die to trim the image.
I decided to do a double matting using the Glitter Silk so, since the middle would be hidden by the Doodlebug paper, I die cut the matte for the image from the middle.
I dry fit the pieces together to see if I needed more. I love how these colours come together so well. I rarely choose background elements before I colour an image so I am always so pleased when I find things fitting together this perfectly.
I decided to edge the sentiment with a little bit of Distress ink Mermaid Lagoon so it stands out a bit more from the wordy background.
I used foam mounting tape under the matted image and the sentiment for a bit of dimension.
Inside, I stamped a birthday hot chocolate sentiment. Yum!
Supplies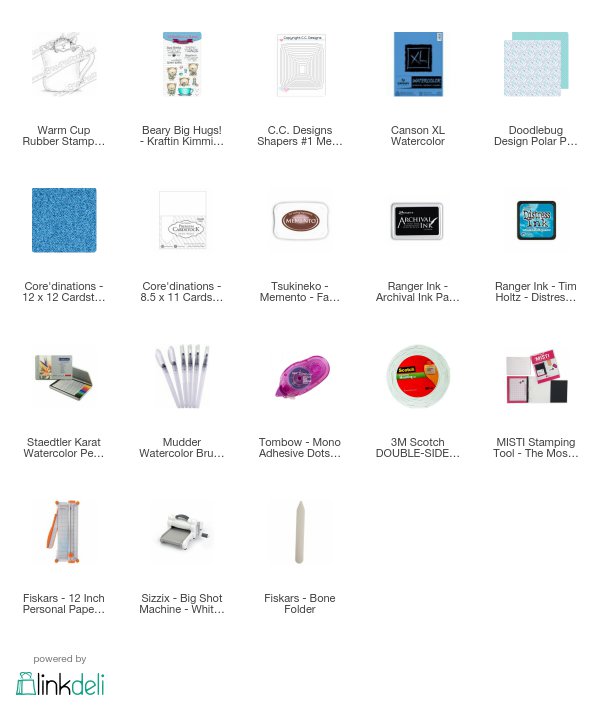 Challenges