My brother was diagnosed with brain cancer last summer. He is in my thoughts often. Since his diagnoses, cancer related stamps call to me. So often cards and stamps for cancer are orientated toward breast cancer but there are sadly so many other cancers, too. The colour for brain cancer is grey, I added the blues as accents for a more masculine look.
This card features stamps by Unity Stamp Company and double embossing.
Putting It Together
I decided on a simple card for a stronger impact in the image and sentiment. The double embossing came when I thought the first embossing was a bit, not quite what I wanted, so I embossed over it and the result was smashing.
I try to remember to always use a powder tool or my makeshift powder bag on the area to be embossed. It really does make for a much more crisp embossing with a lot fewer stray bits where you don't want them.
VersaMark is one of the best sticky inks. It takes a long time to dry so it's ideal for embossing. Perfect Medium is another one that I use at times. I've tried some other embossing inks and these two are hands down superior.
I am a cascader. I pour the embossing powder on the ink over a coffee filter. The coffee filter catches the excess when I pour it off. Coffee filters are super cheap, easy to obtain, and are designed to be static free. They're also easy to fold into a 'cone' to make pouring the excess powder back into the bottle (or bag or whatever) super easy. I use a Swiffer cloth to wipe up anything stray. Another thing I do, over the coffee filter, I turn the powdered panel upside down and give it a few whacks with a pencil. This helps to knock off any stray bits of powder, especially when embossing a detailed stamp. I then will blow softly on the powdered area.
I used a heat tool that I got from the hardware store, Wagner HT1000. It's the same as one marketed for scrapbooking and about the same price. I like that it has 2 settings and a handle. I'm not too fond of the 'wand' heat tools. The price was a little less than what I have seen for the scrapbooking one. In the hardware store, look in the area where shrink wrap items are. Ironically, my sweetie prefers the wand style Recollections heat tool I originally got for doing his shrink wrap stuff. He thinks my Wagner is too hot. I like to emboss to emboss fast so the higher heat was better for me. I generally use the lower setting except if I want to emboss on vellum or acetate.
To do my double embossing, after heat setting the blank, I re-inked with VersaMark.
One of the things I love about the Misti is that second stamping, even if you took the panel out and put it back, is so easy. I usually leave the stamp on the door until I am completely done with the project or at least that phase if I have more than one stamp. I haven't tried the other stamp positioners yet. There's at least one on my wish list but other stuff is ahead of it because I like the Misti so much.
I cascaded on the second colour, a blue pearl that's slightly translucent.
The blue pearl over the black is an amazing look. Because it's double embossed, it's raised a bit more than regular embossing. The two colours together have a sheen that's really hard to describe. I'm not sure the pictures do it justice either.
I use a pair of tweezers to hold the panel while heat setting, especially if it's a small panel or the embossed area is close to the edge.
And the bigger panel. I wanted to go with a darker, but not quite black to make the butterflies in the ribbon less girly. Butterflies are a symbol of rebirth and life.
I added a dark blue panel behind the divided grey to tie it all together. I was following a sketch challenge for the layout and really like the strength it gave this clean and simple design.
Inside, I stamped another sentiment block. I used a bluish grey to both tie into the front and because grey is the colour for brain cancer.
Supplies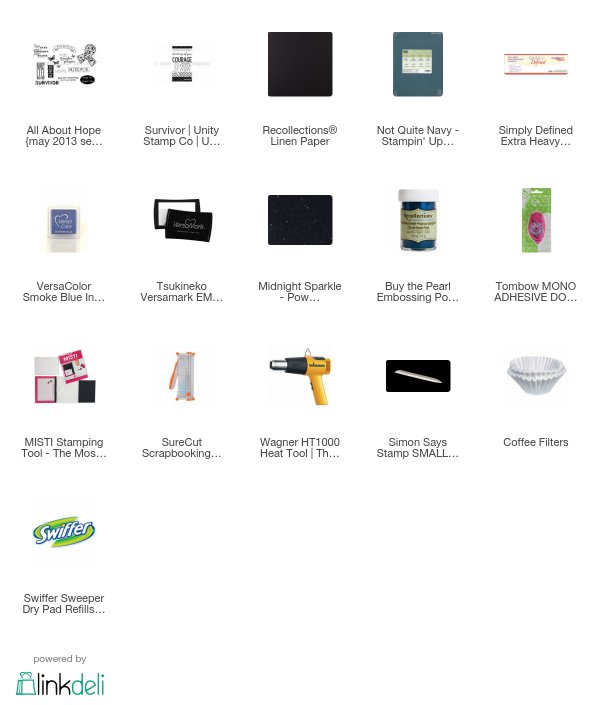 Challenges