A snowy village is perfect as a frame for a Christmas picture. The village is a Kraftin' Kimmie stamp set coloured with Koh-i-Noor pencils. The snowflakes are BoBunny glitter paste with a brand new stencil from Kraftin' Kimmie, Sparkling Snowflakes, to be released on Saturday.
Putting It Together
Over the weekend I went to the first Kraftin' Kimmie Krafty Retreat in London, Ontario. I brought a portion of my
stash
to use while I was there in addition to new items I got at the event. One of the items I brought was the mailable frame I die cut the night before I left from matboard.
I am absolutely over the moon that the new product line from Kraftin' Kimmie is stencils. I love using stencils!
On the first day of the retreat, I used Nuvo Mousse that I brought with me to colour the white matboard with a metallic light blue.
I then used washi to mask off the flaps above and below the frame and to hold the Sparkling Snowflakes stencil in place. I also masked some of the inner partial flakes. I then used a silicone brush to smear BoBunny glitter paste over the stencil. I left the frame to dry overnight.
One of the games at the retreat was the challenge basket. I drew a slip of paper with "texture". I immediately thought of the frame I had started and decided it would be perfect. I stamped the village pieces on Mi Tientes and coloured them with Koh-i-Noor pencils. I used a toothpick to add glitter paste to the roofs and trees for a sparkle of snow.
I fussy cut the village and dry fit the pieces on the frame to get a feel for positioning.
I used foam mounting tape to adhere the village pieces to give them added dimension.
To help the frame stand up on its own, I added a large square rhinestone to the inside of the bottom flap.
Supplies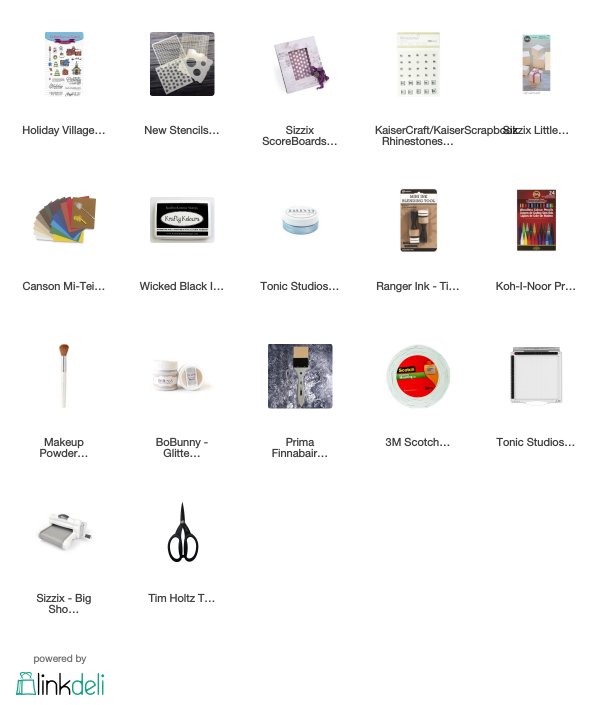 Challenges