My card today features a long retired stamp by Kraftin' Kimmie stamps coloured with Prismacolor pencils and embellished with pearls and die cutting.
Putting It Together
I love the look of Prismacolor pencils on kraft so, for a watery scene, I decided to try a blue panel.
I stamped this long retired stamp with Lovely Lagoon, one of the Krafty Kolours by Kraftin' Kimmie. I used Tempting Turquoise cardstock from Stampin' up. The cardstock has a really nice tooth for pencil colouring.
I used several Prismacolor pencils to colour up the mermaid with her fishy friend. I Googled angelfish to get an idea how to colour the fish. I am very happy with how both the mermaid and the fish turned out. I most definitely have improved in pencils since I first picked them up and even since the first Kit and Clowder class I took.
I dry fit the frame die to see if it would fit.
I die cut a textured green with hints of blue paper I got at a garage sale sponsored by a local scrapbooking store last year. I like the look of the texture in the die cut. I was going for an impression of kelp without it actually being kelp.
I die cut two more of the frame from Night of Navy from Stampin' Up so I could stack them. I used a dark blue cardstock for the lower layers so the hints of it would look like shadows.
I trimmed the mermaid's panel to fit the frame and adhered the stacked from to it.
I added the mermaid to a kraft cardbase. I love how the kraft brown sets off the blues. I then added pearls to each of the openings in the frame.
Inside, I added a panel with the interior of the frame die cut (die cut a 4th time) and decorated it with a sentiment and small stamps from another Kraftin' Kimmie set. I used the Lovely Lagoon for the sentiment because I love the colour of that ink on the Temptin' Turquoise paper. The crab didn't look as red as I want. I'm not sure if it was the stamp that still had colour from a previous project (though it had been cleaned) or the interaction with the blue.
Supplies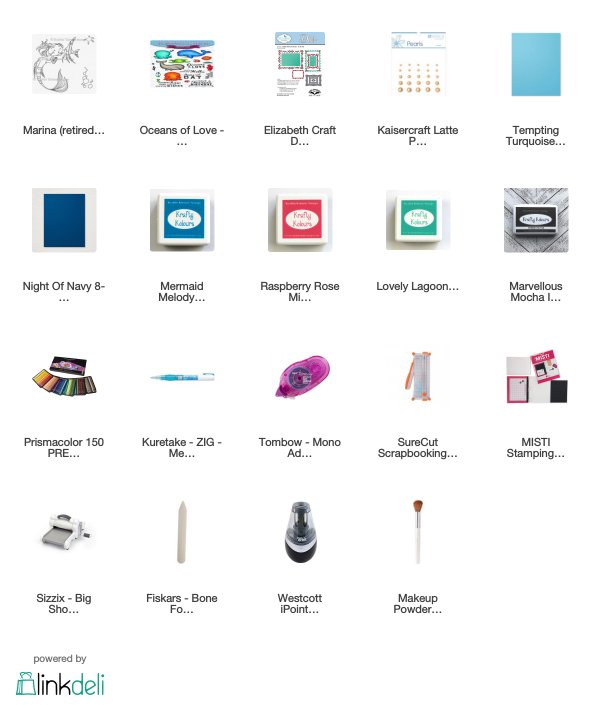 Challenges