While sleeping on a pile of books, what else would a snoozy kitty dream about than magic? Have a magical daydream for your birthday.
My birthday card features Newton Nook stamps coloured with Distress marker paired with Graphic 45 paper and die cuts.
Putting It Together
This card started with an idea that popped into my head while I was at my day job waiting for a reboot on a device I'm testing. Magical Dreams is a new-to-me set that I got at a car boot (rummage) sale sponsored by a local scrapbooking store. I had it on my mind, pondering the current colour challenge for Inky Paws. Then, in a bolt of inspiration, I thought about the kitties sleeping on books of Newton's Book Club and the dream idea was born. I can't seem to stop using the Book Club set *laugh*
When I got home, I grabbed a die and the images to do a dry fit of the idea to see if it would actually work.
I stamped the images with black archival ink on watercolour paper. I used black ink because I wanted a comic book element to the images. Since I planned to cut them out, it didn't matter how the images were oriented so I just fit them on to the paper I had as scrap from an earlier project.
I used Distress markers and a waterbrush to colour the images.
I fussy cut the images with a narrow margin.
I die cut a scalloped oval from pearlized paper for the dream cloud. For the puffs, I die cut a small cloud, cut it in half, and shaped the cut edges. I used a paper from the Enchanted forest pad from Graphic 45 to add more story tale elements in a neutral way. I used foam mounting tape to pop-up the Newton's Nook images to give them dimension.
Inside, I used "happy birthday" from a third Newton's Nook set (I love that scrolly font) along with one from the Magical Day set. I hand wrote "dream" to finish the tie into the front. I also stamped a wand and add a strip of the Enchanted Forest paper. I added the strip to hide my failed attempt to so a flipped stamping of the frog from the Magical Day and an ink smudge from that attempt. But, shhhh, no one needs to know that *laugh* The strip is a nice tie back to the front, too.
Supplies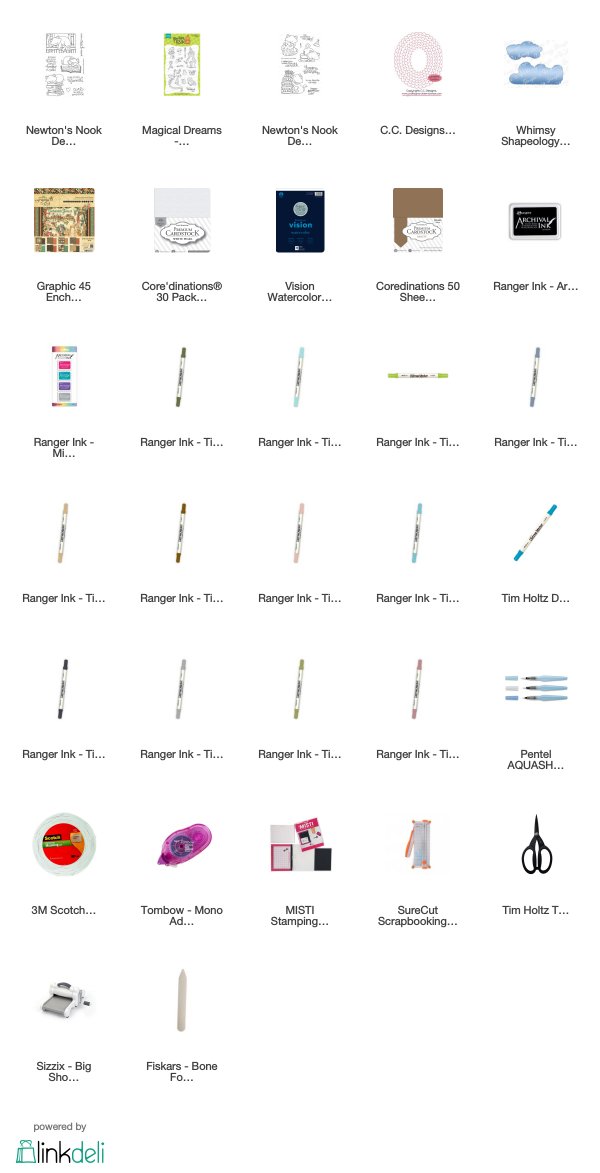 Challenges
Inky Paws:
White, Blue, Greem, Yellow
Simon Says Stamp Wednesday:
Bright and Cheerful
Addicted to Stamps and More:
Make Your Mark
Creative With Stamps:
Cute Animals
Incy Wincy:
Handwriting
(addition to the sentiment inside)
Crafting From the Heart:
Anything Goes
Creative Moments:
Anything Goes
Crafty Gals Corner:
Anything Goes
Scribbles Designs:
Anything Goes