A lovely spot of tea for your birthday. My tea-full card features Impression Obsession dies with embossing from Emerald Creek.
Putting It Together
I love Emerald Creek embossing powders and their new lines with special effects. I picked up the new Magical Mysteries fairy wing kit a couple weeks ago and, with my experiments, discovered it can have a delightfully vintage porcelain look when it's layered thickly.
To emboss little die cuts, I attach them to scrap cardstock with repositionable adhesive. This gives the little pieces a handle to heat emboss safely.
The kit comes with a base that has a really lovely purple iridescence on its own. I embossed 3 layers of the base to give the pieces a lovely rounded look. I used Nuvo clear embossing ink for each layer by squishing the pad directly on the die cut. I use plastic packaging to protect my work surface from the sticky ink.
The kit comes with four pastel colours and a vintage gold very fine powders. After squishing the embossing ink on to the die cut, I used a small spoon to lightly add the colour powders. From playing with the kit earlier, for the vintage porcelain look, I discovered its best to add the gold after doing a layer with colours only.
I added the powders randomly before heat setting it. The colours and gold melt into the base to create a very lovely effect.
I repeated this on all of the die cuts except the tea bad and the sliver of tea. I used only the gold on the spoon after adding the base.
I used Copic markers on the tea sliver and tea bag.
Thickly layered embossing makes the die cuts into embellishment pieces.
I did a dry fit on a card base with a doily from some card kit of the past and a lovely Vintage Tea Party paper.
I used a tape runner to add everything to the white card base.
Inside, I used scrap from the patterned paper for a nice detail. I hadn't the heart to cut that rose.
Supplies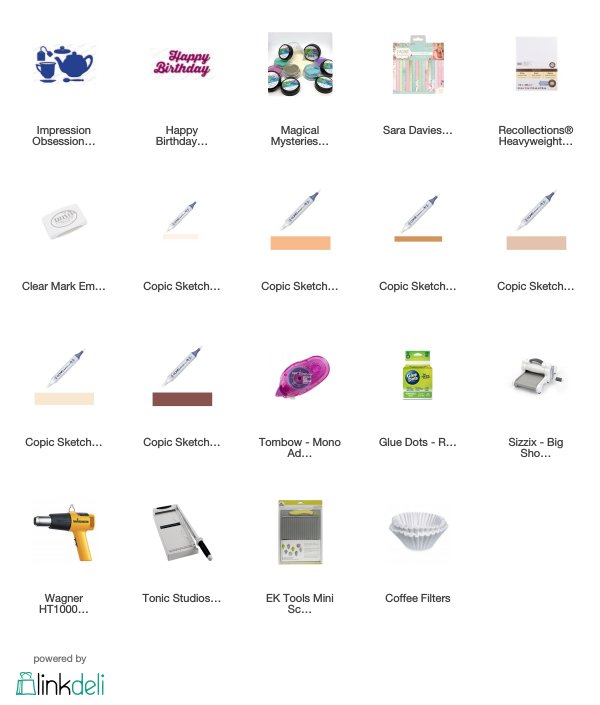 Challenges