Today's flowerful greeting is made with a brand new product from
Kraftin' Kimmie Stamps
. Not just the gorgeous flower stamps but the inks, too! Krafty Kolours Inks by Kraftin' Kimmie Stamps! These are hybrid inks in gorgeous colours that are fun to work with.
I combined Krafty Kolours Inks with a new stamp set from the May release, that will also be available now in inky kits, and a wood door hanger laser cut with the greeting.
Putting It Together
Four Krafty Kolours Inks were part of one of the surprise kits available earlier this month. Those who got the kits are helping to introduce the new inks today. I got my kit a day before I went to Joanns and saw this door hanger. When the idea popped in my head, I had to get it.
I dry fir the flower stamps to see if the project was going to blossom.
I used the Misti to stamp the flowers on Bristol with the new Krafty Kolours Inks. The colours are rich and stamp well.
I used the four inks from the kit and added Soft Vanilla from Hero Arts to stamp the flowers and leaves several times.
I fussy cut all the flowers and leaves with a narrow margin.
My piles of flowers to build with.
I dry fit a bunch on the wood hanger.
I used a Nuvo glitter marker on the edges of the letters and the banner to give it a small bit of sparkle.
I used foam mounting tape to adhere the flowers and leaves to the wood. Most of them above the bottom row only have adhesive on the top with their lower edge tucked under the flowers in front.
It's bright and full of Spring blooming all over, the perfect greeting for a door.
The new inks are available starting today in full size, minis, and refills. They can be purchased separately or in sets. Two new stamp sets from the may release will also be available in kits with the inks.
Krafty Kolours Inks are a Hybrid ink that combines the best of both dye ink and pigment ink!
- These beauties are acid free, archival and non-fading!
- This ink dries almost instantly on paper and non-porous surfaces and requires a heat set on glossy surfaces and fabric
- They have a raised felt pad that let you stamp any size stamp!
- They give a crisp, bright, non-bleeding impression!
- They come in full sized pads, mini cubes and ink refills!
With these inks you can ink directly, sponge, stencil, watercolour, you can do all sorts of techniques with them AND most exciting….the Krafty Kolours Inks are safe to use with pencils AND alcohol based markers!!
Supplies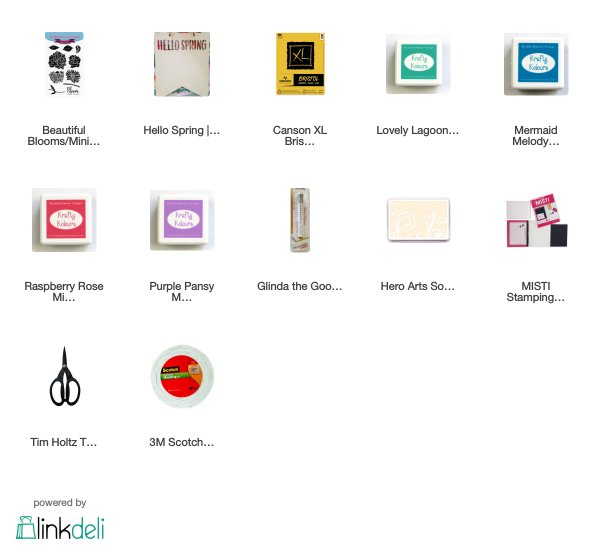 Challenges